Air Conditioning Repair, Heat Pump Repair, and HVAC Repair Contractors of Panama City Beach, FL
Looking for a dependable HVAC business with experts dedicated to your comfort and peace of mind? Woodall's Total Comfort Systems, Inc. is the name your Panama City Beach, Florida neighbors know for quick response times, excellent customer service, and strong workmanship. We understand how inconvenient it is to have unanticipated HVAC issues.  This is why we will make every attempt to give you on-time service, individualized solutions, and a worry-free experience from beginning to end.
We provide HVAC repair, heat pump repair, HVAC maintenance, and air conditioning repair and replacement services.  We also offer comprehensive HVAC solutions.
Call us today!  Request an estimate, get an honest second opinion or schedule service for Panama City Beach HVAC solutions at 850-482-8802.
HVAC Contractor of Panama City Beach, FL
As a dedicated HVAC contractor, we will take a look at your current system and help you decide what is best for you. While we do our best to offer air conditioner repair and heat pump repair services, this isn't always what is needed. If your system is old and has seen better days, we may suggest getting a new system.  This new system will be more reliable and energy-efficient.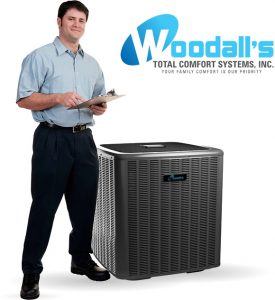 We provide a broad range of HVAC solutions for both residential and commercial applications. Our professionals will collaborate with you.  We want to understand your needs and assist you where possible.
Whether you need a new HVAC system installed, existing equipment serviced for the season, or you want to upgrade to a whole-home air filtration system, you can count on our Panama City Beach, FL HVAC technicians to get the job done safely and efficiently.
Don't hesitate to contact us now.  Learn more about your heating, cooling, and indoor air quality choices in Panama City Beach, FL, today at 850-482-8802.
Why Use a Heat Pump?
The heat pump is a popular alternative for central air conditioning these days. A heat pump is a system that can heat and cool your home using similar components to a central air conditioner. Refrigerant sends heat out of the home to cool it.  But it may also transfer heat from the air outside to heat the residence!
Many people are concerned that a heat pump will not be as effective at heating as it is at cooling.  But this is no longer an issue with modern systems.  You can boost performance by adding electric heating strips or installing a dual fuel system that combines a gas furnace with your heat pump.  If you have questions regarding heat pump use, give us a call at 850-482-8802 today!
Panama City Beach, FL Air Conditioning Repair Services
Woodall's Total Comfrot Systems Inc is dedicated to providing you with unrivaled customer service. Our Panama City Beach, FL HVAC contractors want to make sure your house is comfortable all year long. We have you covered whether you need a speedy repair for your air conditioner, a brand-new heating system such as a furnace, or services for your indoor air quality.
Above all, we care about our customers. We care for your house and HVAC system as if they were our own. From the politeness of our specialists to our expertise,  we ensure that you have a positive experience from start to finish. Make us your first choice for Panama City Beach, FL air conditioning repair, HVAC maintenance, and heat pump repair services. We offer quick, personable, and professional service with a smile. Call 850-482-8802 today!
Air Conditioning and hvac repair services in the Panama City Beach and Marianna Florida markets. Call us today for free estimates and quotes to keep you comfortable.